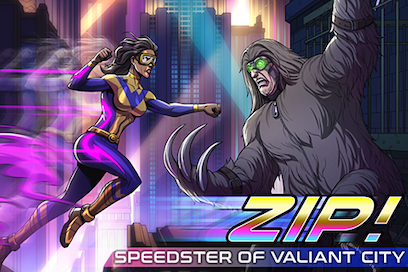 We're proud to announce that Zip! Speedster of Valiant City , the latest in our popular "Choice of Games" line of multiple-choice interactive-fiction games, is now available for Steam, the web, and on Android and iOS in the Choice of Games Omnibus app.
It's free to win, and $4.99 to turn off advertisements and delay breaks, discounted to $2.99 until February 27th! Turning off ads also unlocks special content!
Please note this is a special, omnibus-only release on mobile.
Use your speedster powers to defeat the superpowered Sloth and save the day, all while tracking down a deadly new weapon threatening your city! There's no room for error in the hero business, not even for the fastest person in the world. One tiny mistake against your deadliest foe threatens to end your career and plunge your city in chaos.
Zip! Speedster of Valiant City is a 48,000-word superpowered interactive novel by @Eric_Moser. It's entirely text-based, without graphics or sound effects, and fueled by the vast, unstoppable power of your imagination.
As a superpowered hero, you've beaten the Sloth before, but this time he's finally gotten the upper hand (claw?) and he's aiming his deadly new device right at the innocent citizens of Valiant City. It's up to you to stop him and his terrible machine before time runs out!
Play as male, female, or non-binary; gay, straight, or bi.
Use your speed powers to battle an array of superpowered foes.
When facing especially tough decisions, use your limited supply of Juice to run even faster.
Focus on your struggling relationship with your romantic partner or flirt with a new hero.
Train your snarky sidekick to prepare for battle with the Sloth, or leave her to make her own mistakes.
Unleash your powers to run for mayor, land a lucrative endorsement deal, or run your enemies out of town.
Destroy the Sloth's machine, learn how to disarm it, or even convince to Sloth to give up his criminal scheme.
Paying to turn off advertisements (or buying the whole game on Steam) will also unlock a special power boost feature!
Are you fast enough to thwart the Sloth's scheme and save the day?
We hope you enjoy playing Zip! Speedster of Valiant City . We encourage you to tell your friends about it, and recommend the game on Facebook, Twitter, Tumblr, and other sites. Don't forget: our initial download rate determines our ranking on the App Store. The more times you download in the first week, the better our games will rank.