Hosted Games has a new game for you to play!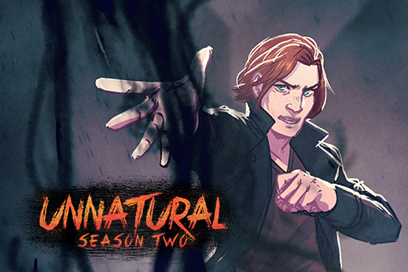 Sometimes all you can do is delay the inevitable. A new organization has risen from the ashes of the Supernatural Response Team, and you are its leader. Take command and decide how it evolves.

Unnatural Season Two is a 700,000 word interactive horror novel by Sam Kabell, where your choices control the story. It's entirely text-based—without graphics or sound effects—and fueled by the vast, unstoppable power of your imagination.

Encounter Unnaturals both old and new. You've dealt with vampires, werewolves, and zombies before, but how will you handle new and previously unknown threats? How will you handle the awakening of once dormant Unnaturals, an ancient danger beyond anything anyone living has faced?

Reforge bonds with the surviving members of the SRT and make some new friends and allies, too. Interview and recruit up to four potential teammates: Avery Daye, a detective who specializes in missing persons related to Unnatural cases; Jennifer Maki, a former veterinarian trained to deal with animal-based Unnaturals; Cassandra Brown, a former member of the Boston Branch of the SRT—or have your actions in Season One set you up to recruit a mysterious returning companion? Import your UnNatural Season One save to find out!

As you move deeper into the Unnatural world, your journey continues to be shaped by it. Past is present as further investigation into your heritage brings new revelations to light. Evolve your power and learn more about the origins of the Azure, potentially discovering how their powers shape your own.

People look to you to protect the innocent from these intersections where the everyday and the supernatural collide.

Play as male, female or nonbinary; be straight, gay, bi or choose to focus on friendship instead.
Continue your romance with your paramour from Season One or pursue one of five new love interests.
Guide Silver Cross Incorporated to protect the innocent from foes human and Unnatural alike.
Manage your funding between four departments: research, security, technology, and training. The responsibility and consequences are yours.
Choose which cases you take on and who you bring with you—will you bring the best person for the job or will you bring someone you want to get to know better?
Utilize an updated threat level system to identify which cases your team takes on, maximizing their chances for both success and survival.
Focus on your powers, or rely on your technology. Not all cases need to end in violence; maybe you can talk your way out?

Your time for following orders is done. In Unnatural Season Two, it is time for you to lead.
Sam developed this game using ChoiceScript, a simple programming language for writing multiple-choice interactive novels like these. Writing games with ChoiceScript is easy and fun, even for authors with no programming experience. Write your own game and Hosted Games will publish it for you, giving you a share of the revenue your game produces.