Originally published at: Their Majesties' Pleasure—Revel with royals, rogues, and Fae! - Choice of Games LLC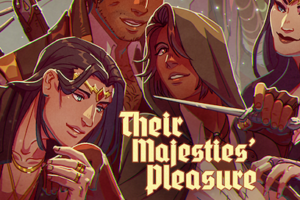 We're proud to announce that Their Majesties' Pleasure, the latest in our "Heart's Choice" line of multiple-choice interactive romance novels, is now available for iOS and Android in the "Heart's Choice" app. You can also download it on Steam, or enjoy it on our website.
It's 33% off until June 22nd!
In this enchanted sexual escapade, will you revel with mysterious rogues, wily Fae, the Prince, or the Princess? Where will your heart and loyalty lead you as the kingdom trembles on the edge of war?
Their Majesties' Pleasure is a 225,000-word interactive erotic fantasy novel by Leia Talon, where your choices control the story. It's entirely text-based, without graphics or sound effects, and fueled by the vast, unstoppable power of your imagination.
As a member of the royal guard, it is your duty to protect the heirs to the throne: the rebellious, fun-loving brother and sister who lead you on a merry chase outside the palace. They open you up to a world that you never knew before: a secret network of assassins, corrupt city officials, and a cabaret brimming with songs, spirits, and sex. And when you are done carousing in the city, you can move into the dark of the magic-filled forest, where demigods and Fae throw jubilant, bacchanal revels, which include orgies for those so inclined.
But the forest is not a peaceful neighbor, and as the enmities of generations past rise up, the realm begins to tip towards war. You are at the center of a tangle of intrigue, and your loyalty is tested at every turn. Your actions could spell the difference between a tentative peace or fierce battle on two fronts.
Where will you find pleasure? Will you seduce the dark-haired Princess Lissa at a revel in the Darkwood, as she indulges her insatiable thirst for magical secrets? Or do you prefer her lithe, muscular brother, Prince Julian, entrenched with enemies of the Crown? Perhaps you'll have Javier, The Rogue King, the broad-shouldered crime boss who runs the the city's cabaret? Or Queen Edenia, the curvy Darkwood demigoddess who will let you taste her elixir of stardust? Or Galen, a golden-haired Fae prince whose warrior instincts are as honed as his skills in bed?
And what happens if your allegiance to the realm comes into conflict with the devotion of your heart? Which will you choose: loyalty or love? Can you find a way to have both?
• Play as male, female, or nonbinary; gay, straight, bi; asexual; monogamous or polyamorous.
• Romance a provocative prince, a feisty princess, a rogue king, a demigoddess, or an immortal warrior.
• Choose high-heat or sweet options, or avoid sex scenes entirely with lively conversation.
• Pledge your loyalty to the King, turn away from the Crown to side with its enemies – or become a spy to play both sides against the middle.
• Plunge into a seamy urban underworld full of assassins, criminals, and riotous taverns.
• Indulge in mysterious Fae revels, with magical food and drink to heighten your senses and otherworldly music to accompany your dances.
• Uncover the secrets of ages past to help prevent – or to incite – a future war.
Indulge your fantasies in Their Majesties' Pleasure.
We hope you enjoy playing Their Majesties' Pleasure. We encourage you to tell your friends about it, and recommend the game on Facebook, Twitter, Tumblr, and other sites. Don't forget: our initial download rate determines our ranking on the App Store. The more times you download in the first week, the better our games will rank.