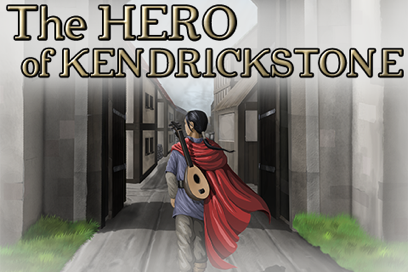 We're proud to announce that The Hero of Kendrickstone, the latest in our popular "Choice of Games" line of multiple-choice interactive-fiction games, is now available for Steam, iOS, Android, and Kindle Fire. It's 40% off during launch week.
Can a wanna-be hero like you rescue the city of Kendrickstone, held hostage by an evil wizard and his troop of black-clad soldiers? Face down fierce foes with spell, sword, or silver tongue. Outwit cunning rivals, cement your fledgling reputation, and maybe, just maybe, make enough money to pay your rent!
"The Hero of Kendrickstone" is an epic 240,000-word interactive fantasy novel by Paul Wang, where your choices control the story. It's entirely text-based—without graphics or sound effects—and fueled by the vast, unstoppable power of your imagination.
Step into the shoes of a fledgling adventurer in a world full of magic and mystery! Master physical combat, magic, stealth, or diplomacy. Choose to befriend–or betray–sorcerers and knights, bandits and baronesses.
Will you spend the last of your silver on a bed for the night, or potions for your next adventure? Will you spend your evenings studying ancient secrets, or prize-fighting for extra coin? Will you seek a mentor to help hone your skills, or strike out on your own? Will you prove to be a paragon of compassion, or a callous mercenary? Will you die forgotten and un-mourned, or will you become the Hero of Kendrickstone?
We need your support to continue delivering our games on Steam. Our goal is to release our entire catalog of interactive novels on Steam. Based on the extraordinary performance of Choice of Robots, which landed on Steam's front page in January, Valve has allowed us to ship a handful of additional games. We'll need to continue to deliver outstanding results to prove that interactive fiction can be successful on Steam.
We're asking all of our fans to follow us on Steam. Even if you don't use Steam that much, it will be a big help if you sign up to follow us there, because the more followers we get, the better visibility we get on Steam's curator list. (Our goal is to hit 3,000 followers for our Steam curation page; we're about a third of the way there as I write this!)
When you follow us, you'll see our games and our recommended games right on your Steam home page. It's free, and it's a big help to us, so follow us today!
We hope you enjoy playing The Hero of Kendrickstone. We encourage you to tell your friends about it, and recommend the game on StumbleUpon, Facebook, Twitter, and other sites. Don't forget: our initial download rate determines our store ranking. The more times you download in the first week, the better our games will rank.