Originally published at: Pride Month is here and so is our new Pride Merch! - Choice of Games LLC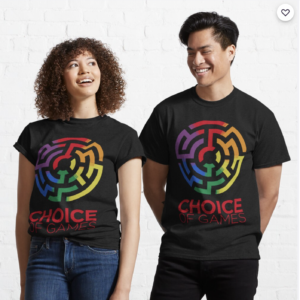 We're proud to announce that our Redbubble Choice of Games merchandise store now has our logo in rainbow for Pride Month!
Choice of Games has always been committed to inclusivity in our games, both in representation of player gender and sexuality, and in our commitment to recruiting and publishing queer authors. We are so pleased to be celebrating Pride in a new way in 2023!
You can find these shirts and many other Choice of Games branded items on Redbubble, where we hope to be adding more options for shirts and merchandise in the coming months.