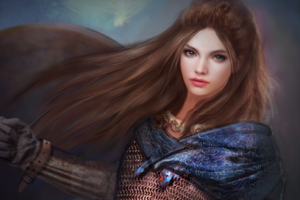 We're proud to announce that Pendragon Rising, the latest in our popular "Choice of Games" line of multiple-choice interactive-fiction games, is now available for Steam, iOS, and Android. It's 25% off until December 11th.
Seize the throne in the age of King Arthur! Lead an army of Britons against the darkest of enemies in this epic interactive medieval fantasy novel.
"Pendragon Rising" is a thrilling 112,000-word interactive novel by Ian Thomas, where your choices control the story. It's entirely text-based–without graphics or sound effects–and fueled by the vast, unstoppable power of your imagination.
As the bastard offspring of the aging ruler Pendragon, you'll fight to save Britain from a demon-tainted enemy and claim the crown you deserve. Command an army as Arthur, brave son of Uther, or Arta, fearless daughter of Utta.
Charge heroically to the front of battle, or use tricks to defeat your foes. Dally with your childhood companion, or seek romance elsewhere. Hold the line with your closest friends against foreign invaders and their sinister magics. Find friendship, forge alliances, uncover plots, and triumph over creatures of nightmare to win a future for your people and your kingdom.
Will you be mercenary or merciful? Seductive or solitary? Most importantly, can you lead your allies to drive back the darkness, and seize your place as Pendragon of Britain?
A 112,000-word fantasy set in medieval Britain.
A Celtic take on the story of King Arthur against a dark background of war and strange magics.
Play as male or female, gay or straight.
Win over allies to swell the ranks of your army as you fight for the future of the kingdom.
Earn the acclaim of your people by performing heroic deeds that will turn your name into legend.
Claim your place as an unmatched warrior, a silver-tongued diplomat, or an inspirational leader.
We need your support to continue delivering our games on Steam. Our goal is to release our entire catalog of interactive novels on Steam. Based on the extraordinary performance of Choice of Robots and Champion of the Gods, both which made it onto Steam's front page this year, Valve has allowed us to ship a handful of additional games. We'll need to continue to deliver outstanding results to prove that interactive fiction can be successful on Steam.
We're asking all of our fans to follow us on Steam. Even if you don't use Steam that much, it will be a big help if you sign up to follow us there, because the more followers we get, the better visibility we get on Steam's curator list. (Our goal is to hit 3,000 followers for our Steam curation page; we're more than 90% of the way there as I write this!)
When you follow us, you'll see our games and our recommended games right on your Steam home page. It's free, and it's a big help to us, so follow us today!
We hope you enjoy playing Pendragon Rising. We encourage you to tell your friends about it, and recommend the game on StumbleUpon, Facebook, Twitter, and other sites. Don't forget: our initial download rate determines our ranking on the App Store. The more times you download in the first week, the better our games will rank.