Originally published at: Path to Knighthood—Enter a magical world of knights and dragons! - Choice of Games LLC


Hosted Games has a new game for you to play!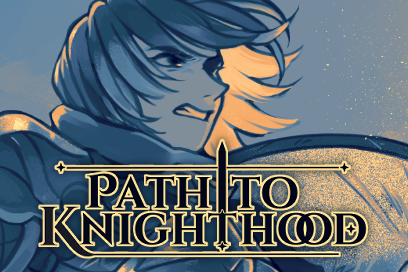 Path to Knighthood is a 250,000-word interactive fantasy novel written by Ian Lai, where your choices control the story. It's entirely text-based—without graphics or sound effects—and fueled by the vast, unstoppable power of your imagination.
This game depicts a classic story in a new way. A brave and dashing knight on the back of a white horse, rushing headlong to slay the dragon and come to the rescue of the beautiful princess – that is how the books usually tell the tale. Here, those childhood stories are darker and more realistic, intertwined with the complexity of humanity.
Play as male or female, straight or gay.
Triumph over your opponents in the tournament.
Save a damsel in distress? You bet!
Learn about humanity in the lands conquered by the godlike creature.
Allow vengeance—or end the cycle of hatred.
Investigate a murder and be the detective of the day.
Discover yourself while undercover in the dragon cult.
Confess the truth—or hide it.
Slay the dragon—or be exterminated by the all-consuming flames.
Face your own sins—look into your heart and confront your true motives.
If you wish for a happy ending, you will have to fight for it!
Path to Knighthood is 30% off until September 14th!
Ian developed this game using ChoiceScript, a simple programming language for writing multiple-choice interactive novels like these. Writing games with ChoiceScript is easy and fun, even for authors with no programming experience. Write your own game and Hosted Games will publish it for you, giving you a share of the revenue your game produces.