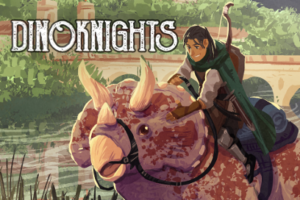 We're proud to announce that DinoKnights, the latest in our popular "Choice of Games" line of multiple-choice interactive-fiction games, is now available for Steam, Android, and on iOS in the Choice of Games Omnibus app. It's 40% off until August 30th!
Saddle up to defend the realm on dino-back!
Once a humble farmer's child, you've been accepted into Queen Isobel's Rangers: brave knights who patrol the kingdom of Pascalia on scaly beasts. But just as you receive your own dino and begin your career as a knight-ranger, you discover evil forces are converging to destroy the Queen, and Pascalia itself.
"DinoKnights" is a 177,000-word interactive fantasy novel by K.T. Bryski, where your choices control the story. It's entirely text-based—without graphics or sound effects—and fueled by the vast, unstoppable power of your imagination.
Enemies and terrifying foes surround you: but whom should you fear most? The Dread Wizard Sargossa, raising an army of un-dead dragons, or an enemy much closer to the court—the Queen's own sister, Ermessen? And what about your burgeoning talent for magic? Will you hone your powers to save your village and fight Sargossa? With a dinosaur at your side and sword in hand—the realm's fate rests on you!
• Play as male, female, or non-binary; gay, straight, or ace.
• Choose one of six different dinosaurs as your steed, including allosaurus, triceratops, and velociraptor!
• Foil a palace coup—or join it, instead!
• Hit the training yard with your dino, or spend your time cozying up to nobles and mages.
• Find love with the royal heir, a charming bard, or a powerful mage!
• Discover your secret, magical heritage.
• Fight to save your own home village from destruction.
• Defend the poorest peasants, or win fame in Royal Tournaments.
Evil is waking, and Pascalia needs you. Will you and your dinosaur answer the call?
We hope you enjoy playing DinoKnights. We encourage you to tell your friends about it, and recommend the game on Facebook, Twitter, Tumblr, and other sites. Don't forget: our initial download rate determines our ranking on the App Store. The more times you download in the first week, the better our games will rank.