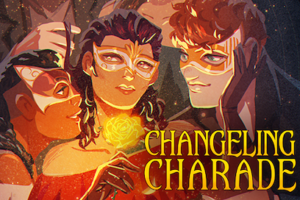 We're proud to announce that Changeling Charade, the latest in our "Heart's Choice" line of multiple-choice interactive romance novels, is now available for iOS and Android in the "Heart's Choice" app. You can also download it on Steam, or enjoy it on our website.
It's 38% off until February 16th!
Masquerade as a noble with fairy magic! What will you risk for your family? For fairy revolution? For true love?
Changeling Charade is a 450,000-word interactive supernatural romance novel by Ruth Vincent, where your choices control the story. It's entirely text-based—without graphics or sound effects—and fueled by the vast, unstoppable power of your imagination.
Magic is illegal in the city of New Victoria. That means that Supernaturals–werewolves, djinn, fairies, and more–have started an underground trade in potions and spells. As an impoverished fairy, you've joined that trade in hopes of earning a better life for yourself and your family: you've become a changeling, transforming yourself to resemble the human noblewoman Lady Constance Weatherby.
Living in Lady Constance's lavish townhouse, you can wear the finest fashions, attend masked balls, make friends among the nobility, learn the arts from a skilled tutor, even gain an audience with the Queen herself!
But there is more to New Victoria's high society than meets the eye, and you are not the only one hiding a magical secret. Which noble house conceals a werewolf? Which one has suspicious ties to the shady Potion Market? Not only that, but there are fairy revolutionaries fighting to reverse the laws that forbid magic, and spies among the nobility working for the same cause. Will you join them? Or will you stay in the comfortable human life that you have made for yourself?
And where will you find love? With the distinguished earl that Lady Constance's overbearing mother hopes to match with her daughter? The fashionable noble with a pet fox and a mischievous smile to match? The penniless tutor, artistic and sincere? Or even the idealistic fairy revolutionary who leads the charge to restore magic?
Play as a woman; gay, straight, bi; poly or monogamous.
Romance a melancholy earl, a mischievous noble, an artistic tutor, or a bold fairy revolutionary.
Uncover the supernatural secrets of New Victoria's human nobility
Dance at masked balls, attend pastoral picnics, refine your artistic accomplishments - or laugh and drink at a fairy pub.
Find acceptance for your true fairy self - or discover new comfort living as a human
Meet the Queen—or work to overthrow her, or even take her place on the throne!
We hope you enjoy playing
Changeling Charade
. We encourage you to tell your friends about it, and recommend the game on Facebook, Twitter, Tumblr, and other sites. Don't forget: our initial download rate determines our ranking on the App Store. The more times you download in the first week, the better our games will rank.