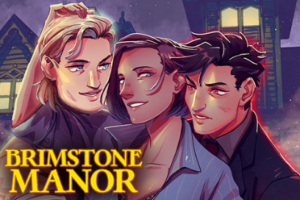 We're proud to announce that Brimstone Manor, the latest in our "Heart's Choice" line of multiple-choice interactive romance novels, is now available for iOS and Android in the "Heart's Choice" app. You can also download it on Steam, or enjoy it on our website. It's 40% off until February 17th!
Lose your heart to an angel or a demon and join the battle between chaos and order! Will you fly with the angels or cast a dark spell alongside the demon lord?
Brimstone Manor is a 168,000-word interactive supernatural romance novel by Frances Pauli. It's entirely text-based, without graphics or sound effects, and fueled by the vast, unstoppable power of your imagination.
You've just been hired as the nanny at Brimstone Manor, a job that came with more than you bargained for. There's something unusual about your new boss, Darien Stone…and your little charge as well. The house itself is full of secrets: What's in the forbidden basement? Why do your employer's rivals have an angelic glow about them? Is the big shaggy dog really a hellhound? Have you been hired to work for…a demon?
As you find your feet at Brimstone, you'll uncover its secrets, care for an adorable demon toddler, learn magic, soar through the air on angels' wings, and join a battle between heaven and hell—and a battle for your heart!
• Play as male, female, or non-binary; gay, straight, or poly.
• Romance a quirky journalist, a demon, or an angel—or two!
• Learn powerful magic, work miracles, and tame your boss's hellhound!
• Befriend or defeat a terrifying demoness!
• Fly with the angels or cast demonic spells!
• Reveal the truth about demons to the world or keep your paranormal knowledge secret.
We hope you enjoy playing Brimstone Manor. We encourage you to tell your friends about it, and recommend the game on Facebook, Twitter, Tumblr, and other sites. Don't forget: our initial download rate determines our ranking on the App Store. The more times you download in the first week, the better our games will rank.