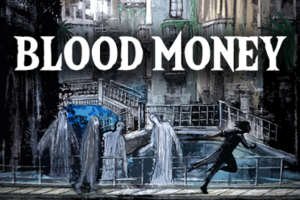 We're proud to announce that Blood Money , by @HannahPS , author of the the smash-hit Creme de la Creme , now has a brand new expansion and update–10,000 more words of expanded romance scenes!
This update is free for all customers who have already purchased the game, and for those who haven't: get Blood Money on sale until July 2nd!
By the power of your blood, you and your ghosts will take over your crime family!
Blood Money is a 300,000-word interactive novel by Hannah Powell-Smith. It's entirely text-based, without graphics or sound effects, and fueled by the vast, unstoppable power of your imagination.
When your cousin murders the city's most notorious crime boss–your mother–a power struggle erupts across the criminal underworld. As your sisters Octavia and Fuschia vie for control, you alone in the family possess the blood magician's power to summon and command ghosts. They hunger for your blood; if it's blood they want, then blood they'll have.
Will you take over the family business? Remain loyal, go it alone, or defect to a rival gang?
• Play as male, female, or non-binary; gay, straight, bi, or ace.
• Embrace your unearthly gifts and build connections with the dead, or banish ghosts to the underworld to protect the living
• Look for love, or manipulate your friends and allies; Betray those who trust you, or maintain family loyalty no matter the cost
• Fight a gang war for your family, defect to your rivals, or reject a life of crime
• Negotiate volatile family relations: resolve squabbles, fall in line as a loyal lieutenant, or sharpen your knife for backstabbing
• Influence citywide politics: exploit the Mayor's office for your own ends, or use your connections for a greater cause
What will you sacrifice for freedom, and who will you sacrifice for power?