Originally published at: Atlantis Academy—Master the ocean's magic to save your school! - Choice of Games LLC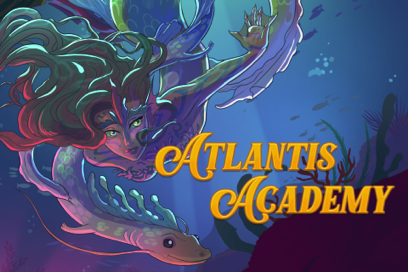 We're proud to announce that Atlantis Academy, the latest in our popular "Choice of Games" line of multiple-choice interactive-fiction games, is now available for Steam, Android, and on iOS in the "Choice of Games" app.
It's 25% off until November 16th!
Can you and your friends master the ocean's magic and save your school?
Atlantis Academy is a 250,000-word interactive underwater fantasy novel by Dorothea Sparrow, where your choices control the story. It's entirely text-based—without graphics or sound effects—and fueled by the vast, unstoppable power of your imagination.
You have spent your life on the border between land and sea, with a water dragon as your closest companion. Your sea nymph mother died, leaving you with a mysterious legacy; your human father disappeared before you were born. Now you are finally eligible to learn magic at the Academy of Atlantis, alongside sea nymphs, selkies, sirens, and other denizens of the deep.
Navigate the cliques and clubs of this undersea school: will you join the Followers of Amphitrite in their pursuit of tide magic, become the Headmaster's protegé, or just work on making the school dance the best it can possibly be?
As idyllic as your magical underwater haven might seem, Atlantis is not safe from the dangers of the world above. Oil wells and human garbage pollute the seas, and earthquakes shake the ocean floor. Nor is it protected from inner conflict: there are deep secrets buried in the Academy's past that threaten to overturn its order and leaders.
Most perilous of all is the ancient evil that is rising from the deep: the monster Proteus, who sank Atlantis beneath the waves long ago. What will happen when it returns? Can you save the school—and the city—from a second destruction?
Play as male, female, nonbinary, or genderfluid; gay, straight, or bi.
Befriend a talking walrus, hatch a hydra, swim with humpback whales, and immerse yourself in the wonder of phosphorescent coral.
Romance a cheerful selkie, a mysterious tide mage, or a bold siren.
Deepen your bond with your water dragon and try to reunite him with his family.
Choose your magical specialty: storm magic, animal communication, or tide magic! Or focus on defending yourself with your spear, or searching for buried treasure.
Uncover the secrets of your own past to find the father that you never knew.
The magic of the ocean is yours to command!
We hope you enjoy playing Atlantis Academy. We encourage you to tell your friends about it and to recommend the game on Facebook, Twitter, Tumblr, and other sites. Don't forget: our initial download rate determines our ranking on the App Store. The more times you download in the first week, the better our games will rank.