Since I've been grabbing a few copies of the Fabled Lands books for myself I figured it might be nice to have a thread where we can discuss any physical gamebooks or Choose Your Own Adventure style books, old or current, which we might own or have read or want to read. Because I love the fact that we have apps now to read gamebooks and all but sometimes there's something nice about having a physical book in your hand, and Choose Your Own Adventure and Fighting Fantasy is probably what got me invested in the medium in the first place and writing a old school gamebook for fun or profit is kind of on my bucket list so…
So I happen to have amassed a LOT of first edition Choose Your Own Adventure books when I was a kid, predominantly from seeking them out in charity shops and car boot sales (I assume those exist in the USA and that's not just a British thing) back in the 90's after having found a couple in my school library. I used to love reading them through and seeing all the different ways things could go, even though they were purely narrative driven unlike the Fighting Fantasy and Eternal Champions books I would find more later when I was older.
One of my prize possessions is a hardback copy of the original book of the series, The Cave of Time, which saw you zip about to different times and places after you found this cave in your uncle's ranch. You could meet Abe Lincoln, join a tribe of cave people, seek out the Loch Ness monster of get forced to build the Great Wall of China. Something about the array of options in history probably helped to ferment time travel and historical fiction as one of my favorite story types. The Cave of Time got three follow up books written in the series - The Forbidden Castle (an all medieval tale), Return to The Cave of Time (lots of time periods again) and The Island of Time (not as connected as the others but still involving getting zapped to different times on the island you're exploring). CYOA's books are probably a bit simplistic compared to similar stories today but probably show nicely how Edward Packard and RA Montgomery - the two core writers of the series - helped to write and mature this new interactive fiction genre.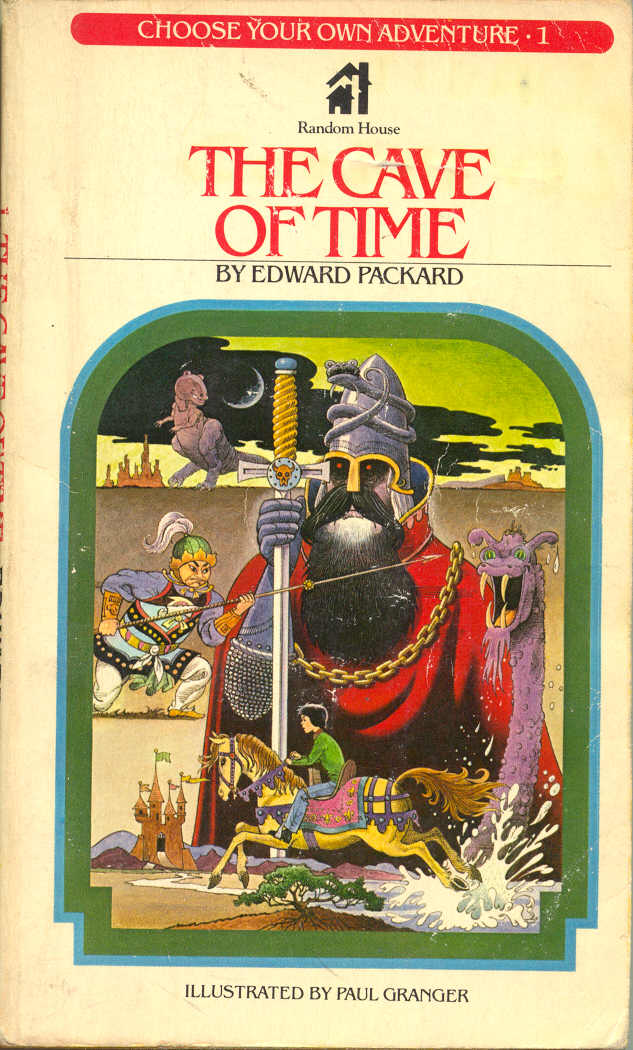 Fighting Fantasy Books are another childhood fav of mine, though I was usually drawn more to the science fiction ones than the typical fantasy based quests the series tended to be like Warlock of Firetop Mountain, City of Thieves or Deathtrap Dungeon. Starship Traveller was a great Star Trek style one where your ship is 'Lost in Space' in a unknown quadrant and you must be a 'Voyager' and get back home through the correct wormhole. Other different books to the regular fare are Appointment with F.E.A.R (superhero, letting you pick your powers), Sword of the Samurai (Samurai, duh) Seas of Blood (pirates with a ancient greek vibe) and Robot Commando (mechs and dinosaurs, hell yeah). Fighting Fantasy books definitely helped to make gamebooks a popular genre and I was fortunate that there were lots of them in my school library.
Curious to hear what other people's fav written gamebooks of the past might be! Anyway, I am pleased to see that the genre has made a comeback, likely I think because of apps like COG and people wanting a physical copy of some stuff. There's Fabled Lands which I'll talk about more when I've played enough of it but also things like Destiny Quest, Critical IF, Can You Brexit Without Breaking Britain (yes that's a REAL gamebook), the return of the Way of the Tiger series and more. So I'm hoping to pick a number of those up in the future.