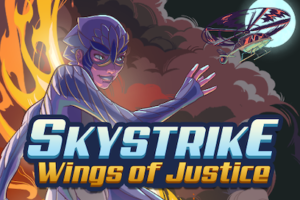 We're proud to announce that Skystrike: Wings of Justice, the latest in our popular "Choice of Games" line of multiple-choice interactive-fiction games, is now available for Steam, Android, and on iOS in the "Choice of Games" app.
It's 25% off until November 17th!
Take to the skies! With the swift wings and keen senses of a falcon, can you save your city from the RatKing's army of minions?
Skystrike: Wings of Justice is a 350,000 word interactive novel by E. Chris Ambrose. It's entirely text-based, without graphics or sound effects, and fueled by the vast, unstoppable power of your imagination.
As the hero Skystrike, you use your falcon powers to keep your city safe while maintaining your secret identity and evading government forces desperate to harness your powers for war.
Now, there's a new threat in town: a charismatic villain known as the RatKing, who has been recruiting a massive army of merciless minions. He must be more than an ordinary crime boss - why else would the animals in town be acting so strangely? And why else would the Bureau of Unlikely Occurrences be on the case?
You'll need to fly fast and think faster - or just hit harder - if you're going to have a chance of defeating this villain! Dance at glamorous galas, thwart attacks on the city's infrastructure, infiltrate top-secret labs, and try to keep your secret identity secret.
You'll even come face to face with the RatKing himself! When you do, you just might learn the secret truth behind his rise to power–or, you might succumb to his charisma and become a minion yourself…
All you know for sure is, if you can't convince the government to help, you must escape them in time to stop the RatKing from carrying out his secret plan. Or will Skystrike be grounded forever?
• Play as male, female, or non-binary; gay, straight, bi, or asexual/aromantic.
• Choose your origin story and secret lair: a super-science lab, an ancestral manor, a cliffside hideout, or a museum full of ancient artifacts!
• Romance your shy gentle neighbor, a bold adventurous cop, a stylish insightful blogger, or your bright efficient co-worker.
• Fight off the RatKing's ever-growing army and thwart their nefarious plans!
• Soar high with the powers of a bird of prey: sharp senses, nimble wings, and powerful muscles. Or, rely on human charm and ingenuity to win over your enemies.
• Fly under the media's radar, or make headlines with your bold exploits!
• Evade the agents of the Bureau of Unlikely Occurrences, or work with them to bring down the RatKing for good!
We hope you enjoy playing Skystrike: Wings of Justice. We encourage you to tell your friends about it, and recommend the game on Facebook, Twitter, Tumblr, and other sites. Don't forget: our initial download rate determines our ranking on the App Store. The more times you download in the first week, the better our games will rank.