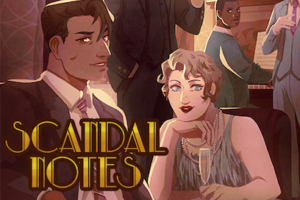 We're proud to announce that Scandal Notes, the latest in our "Heart's Choice" line of multiple-choice interactive romance novels, is now available for iOS and Android in the "Heart's Choice" app. You can also download it on Steam, or enjoy it on our website.
It's 25% off until Dec 8th!
Find glamor, glitz, gossip, and love! You and your friends are the talk of the town—but will a malicious journalist turn the tables?
Scandal Notes is a 108,000-word interactive romance novel by Evelyn Pryce, where your choices control the story. It's entirely text-based—without graphics or sound effects—and fueled by the vast, unstoppable power of your imagination.
In the heart of London, flappers flap and the 20s roar! For an ambitious novelist like you, there's inspiration everywhere. The nights are filled with fabulous parties where champagne flows freely and jazz plays in dance halls and smoky clubs. You and your friends—a group of Bright Young Things known as the King's Road Crew—are at the center of it all, the talk of the town and the top of every society page.
Of course, love is on the horizon. Will you fall for Sybil Warwick, the fashionable and fun-loving star of the silent screen? Or Errol Sharp, the literary critic whose wit matches his name? Or Baron Sidney Norcross, the aristocratic host of the most fabulous parties in town?
But now, the author of the infamous gossip column "Scandal Notes" is starting to comment on secrets that your friends would rather not see the light of day—and secrets that only someone close to you would know. Can you unmask the traitor? Are all of your friends really what they seem?
• Play as a woman novelist in 1920s London
• Keep your friends together through thick and thin.
• Play matchmaker for a lovelorn jazz singer.
• Become a critical literary sensation or an underground pulp hit.
• Find love with a witty book critic, a glamorous actress, or a suave aristocrat.
• Obey the rules of society or throw caution to the wind
• Search out the villain whose nasty gossip columns threaten your friends
Dance the Charleston until dawn, write a novel for the ages, find true love - and above all, keep your name out of "Scandal Notes"!
We hope you enjoy playing Scandal Notes. We encourage you to tell your friends about it, and recommend the game on Facebook, Twitter, Tumblr, and other sites. Don't forget: our initial download rate determines our ranking on the App Store. The more times you download in the first week, the better our games will rank.