TRAILER: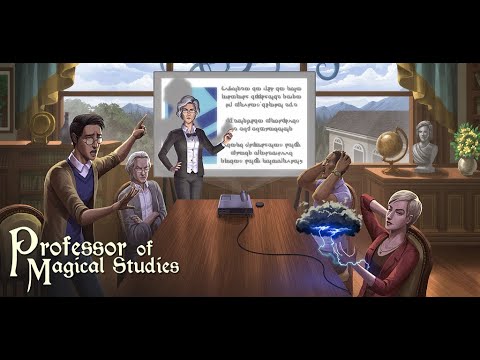 DEMO:
Professor of Magical Studies
AUTHOR INTERVIEW:
All the congratulations to @Sargent on releasing this game! So excited to unleash it on the world this Thursday.
I've been looking forward to this one congratulations to the author
I'm so delighted for this one to come out! I was sorry to be too snowed under to play much of it while it was in progress, but what I saw was lovely and it will be exciting for it to be mostly a surprise!
I'd also like to note for folks who complained about the character art we've been trying out–we've included a "toggle art on/off" in the stats screen for this one. <3
I'm so excited it's almost here! This is easily one of my favorite games of all time. I've been looking forward to it since I first saw it in the Upcoming Releases list - a magical school story from a professor's point of view? Sign me up! - and working on the beta has only deepened my enthusiasm. The magic system is like nothing I've seen before, but no more absurd than the actual field of quantum mechanics. The early chapters somehow manage to capture the mundanity of academic life without being any less magical for it, while the later chapters are exciting and full of surprises and dilemmas. The characters are delightful. Really, I don't think I could say enough good things about this game, and I'm very excited for everyone to get a chance to play it.
Y'all. Y'all. I'm so excited this is about to be released into the wild. I've always wanted to write a "get the team together" game where you can go all BioWare and choose who you spend time with before going off to save the day. Thanks so much to Choice of Games for making that possible.
Love this descriptive blurb … congrats in advance, Sargent.
Lots of good "get the team together" will be had on Thursday, for sure.
No forbidden romance?

No officially forbidden on. There's one RO who's more challenging to date because of what they're like, but that's just, like, a regular non-forbidden relationship that's available for people who like to throw themselves down double black diamond ski slopes, romantically speaking.
I really enjoyed the WIP of this. Congrats on release!
Looking forward to playing.
Congratulations, i can't wait to play it.
Really enjoyed the demo, looking forward to trying the full game out.
I asked ChatGPT to write breathless marketing copy for the game and I dunno how the actual game's gonna live up to the AI's claims about it.
Yeah it's the bioware comparison that's going to get people thinking but tbh I prefer not too compare I've read the demo and have my own opinion but it's a positive one
Comparisons are odious! POMS is sui generis!
At least it said "text based." I tried it on one of my other games and it praised the striking visuals.
Damn that was like, really well made I won't lie. Immediate buy, especially with that really nice magic system
Only issue so far is our friend vanished and we just never asked to meet up from what I understand in chapter 2?? Like I know college is hard but like bruh I'm in college and if my friend went full coma I don't care if I'm writing my thesis I'm visiting at least once XD
Read on!