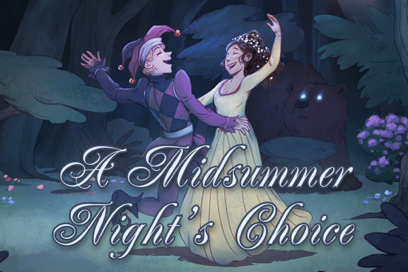 We're proud to announce that A Midsummer Night's Choice, the latest in our popular "Choice of Games" line of multiple-choice interactive-fiction games, is now available for Steam, iOS, and Android. It's 25% off until September 1st!
In this Shakespearean comedy adventure, can forbidden love conquer adorable fairy outlaws?
A Midsummer Night's Choice is a 190,000-word interactive fantasy novel by Kreg Segall, where your choices control the story. It's entirely text-based–without graphics or sound effects–and fueled by the vast, unstoppable power of your imagination.
"Love looks not with the eyes, but with the mind, And therefore is winged Cupid painted blind"
When your father, the Duke, tries to force you to marry, you'll leave civilization behind as you flee in disguise, cross-dressed, into the enchanted forest. Mistaken identities, inexplicable bears, and tiny but fearsome fairies await! (Seriously, they wear little walnut shells for helmets, and ride armored baby bunnies into battle.)
Will you fall into the mysterious Faerie Queene's clutches? Will you (or your identical doppelganger) find true love? Or will your father's spies find you first?
Hold on to your heart! The course of true love never did run smooth.
Play as male or female, gay, straight, or bi.
Inspire the world with your noble deeds, or play everything for laughs.
Star in a play within a play. (Er, within a game…that you are playing.)
Become a jester, a diplomat, a knight, a poet, a shepherd–or leave the world behind and join the fairy court.
Why is there a bear?!
If you pre-ordered
iOS/Android: A Midsummer Night's Choice is available as a free app. Anyone can play the first part of the game for free on iOS and Android (or on our website). Once you reach the end of the free trial, the app will ask you to either purchase the game or "restore" your purchase.
If you've purchased the game on our website, you can restore your purchase on iOS/Android at no additional charge, unlocking the rest of the game.
Windows/Mac/Linux: Visit our web page for A Midsummer Night's Choice and click the link at the bottom of the page to "download it directly from us." (The game is also now available to purchase on Steam, if that's what you'd prefer.)
We hope you enjoy playing A Midsummer Night's Choice. We encourage you to tell your friends about it, and recommend the game on StumbleUpon, Facebook, Twitter, and other sites. Don't forget: our initial download rate determines our ranking on the App Store. The more times you download in the first week, the better our games will rank.