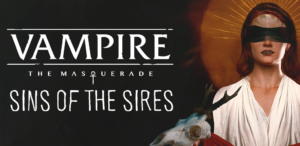 We are thrilled to announce that Vampire: The Masquerade—Sins of the Sires, by Natalia Theodoridou, is a finalist for the Nebula Game Writing Award, and it's on sale, 25% off this week! To celebrate Natalia's second time as a finalist, we are also putting every previous Nebula Finalist game on sale:
The Luminous Underground
The Road to Canterbury
The Magician's Workshop
Rent-A-Vice
The Martian Job
Vampire: The Masquerade—Sins of the Sires is a 300,000-word interactive interactive novel set in the World of Darkness shared story universe. In this elegy of blood, everyone in Athens owes your boss a favor, making you untouchable! Who will you use, who will you help, and who will you prey on?
This is the fifth year that there has been a Nebula award for game writing, and the fourth year that Choice of Games authors have been finalists. Past Choice of Games Nebula finalists are: Phoebe Barton for The Luminous Underground, Kate Heartfield for The Road to Canterbury and The Magician's Workshop, Natalia Theodoridou for Rent-A-Vice, and M. Darusha Wehm for The Martian Job.
Since 1965, the Nebula Awards have been given annually to the best works of science fiction and fantasy published that year, as voted on by the members of the Science Fiction and Fantasy Writers of America (SFWA). The 58th Annual Nebula Awards ceremony will be streamed live during the 2023 Nebula Conference, May 12-14, 2023. Stay tuned for more!