Originally published at: The Arcanist's Journey—Choose your magic, evolve, and conquer. - Choice of Games LLC


Hosted Games has a new game for you to play!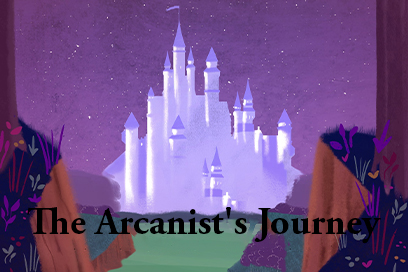 Mold an orphan's path into elemental mastery, unveiling magic's secrets. Race against approaching foes to conquer the arcane summit. Make friends, cast a great variety of spells, and navigate the hidden truths in this world of magic and might.
The Arcanist's Journey is a 138,000-word interactive fantasy novel by Colin Daumen. It's entirely text-based, without graphics or sound effects, and fueled by the vast, unstoppable power of your imagination.
In this captivating interactive novel, you will step into the shoes of an orphan who, burdened by a challenging past, embarks on a daring journey to forge a better future. Forced to flee from home in search of a brighter destiny, you will delve into the realm of magic, determined to master its arcane mysteries. Your choices will shape not only the protagonist's path to mastery but also the unfolding narrative, as you navigate the trials and tribulations of a world brimming with enchantment and danger. Will you rise above adversity and become the master of your own destiny? The power to weave this compelling tale lies within your hands.
Play as male or female
Shape your protagonist's destiny through intricate choices
Choose whether to join the Fae Academy or the Draken Academy, each granting you greater expertise in different fields of magic.
Unveil the mysteries of elemental magic in a richly detailed world.
Study from five different schools of magic; Pyromancy, Hydrosophy, Summoning, Theurgy and Illusion.
Navigate treacherous decisions as enemies draw near
Engage with a captivating narrative, woven with suspense and intrigue
Overcome challenges using intellect, wit, or sheer determination
Be a part of the Alchemical Society, Mage's Guild or Adventurer's Guild
Dive into The Arcanist's Journey, where your decisions carve the way to mastery and survival. Will you rise to the pinnacle of arcane power or succumb to the encroaching darkness? Your adventure awaits!
The Arcanist's Journey is 40% off until October 12th!
Colin developed this game using ChoiceScript, a simple programming language for writing multiple-choice interactive novels like these. Writing games with ChoiceScript is easy and fun, even for authors with no programming experience. Write your own game and Hosted Games will publish it for you, giving you a share of the revenue your game produces.